Products
Gummi-Pfütze produces rubber connectors, precision moulded parts and silicon moulded parts for you – true to drawings and completely deburred. We produce parts of 0.1 g to 500 g in unit numbers of 1 to 1,000,000. We remove burrs manually with grinding machines specially developed by us. Nitrogen removal is also possible. You can use the supplied vulcanised rubber immediately.


Connectors
Rubber-metal connectors:
e.g. connectors with aluminium, stainless steel and brass parts
Rubber-plastic connectors:
e.g. connectors with polypropylene (PP) and polyamide (PA) parts

All preparation works, such as cleaning, degreasing and adhesive work, are completed by us in-house. We can also prepare metal and plastic parts prepared by you if desired.


Precision Moulded Parts
Membranes
Spouts
Bellows
Buffers
Eye-piece cups
Vibration dampers
Suckers
Sleeves
Caps
Special seals
Silicon Moulded Parts
Because of its special characteristics, silicon rubber is used in medical technology, the foodstuffs industry and pharmaceuticals. Silicon rubber is physiologically inert and has a bacteria and mould-repressive effect. It provides a total seal against antioxidant and softening agents. Depending in the rubber compound, silicon rubber can withstand temperatures of –120 °C to well over 200 °C. In contrast to other types of raw rubber, transparent vulcanised rubber can also be produced.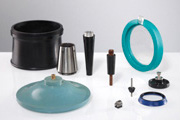 Connectors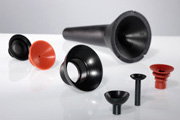 Precision Moulded Parts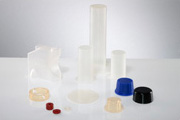 Silicon Moulded Parts